Android app to improve self-training performance
I am pleased to announce the release of the Smarter Exercise Toolkit for Android available exclusively on the Google Play Store. In October 2014 I started sketching the basic design and workflow for the app, a process called 'wireframing'. Once I had drawn out my plan, I shopped around for a developer to help with the programming. Along the way I met some very talented programmers, but there were several obstacles that would have to be overcome if I were to benefit from their expertise. First, I would have to pay them – that was a major obstacle. Second, they did not share my experience with high-intensity training. Third, they did not share my vision for the app – they wanted to reduce it to a game, whereas I wanted a tool that filled specific requirements that made sense for the purpose of effective self-training – call me crazy! I began to dust off my programming hat, rolled up my sleeves and got to work. It turns out that being away from programming for over 10 years and not paying attention to the constantly changing landscape of technology is an impediment to creating a compelling application for the Android platform. Fortunately, there are a ton of resources available at little to no cost for anyone with an idea and hundreds and hundreds and hundreds of hours of free time. It is my hope that people, who may have been exposed to proper strength training methods, will use the app to achieve better results by improving their performance when self-training. Here is how the app helps you:
1. Have a Plan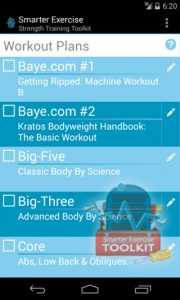 Plan your workouts. Give them a name so you can re-use them. Even better, benefit from Drew Baye's experience and use one of his exercise plans. Read his blog, buy his books at baye.com. Order Body By Science from a bookstore or Amazon.com and follow authors Doug McGuff and John Little's 'Big Five' workout plan which will be sufficient for regular people to achieve outstanding results.
2. Be Consistent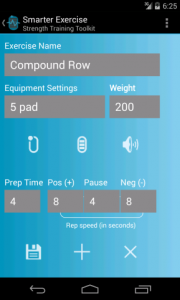 Keep track of the exercises, equipment settings, and weights so you can be consistent with your training.
3. Performance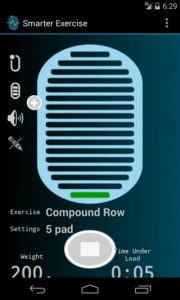 Use the app for visual and auditory guidance during the performance of every exercise. Set exercise-specific repetition speed. I will use a 10/10-second cadence on leg press, a 8/8-second cadence on abdominals with a 4-second squeeze in the most contracted position.
It is almost always better to workout with a qualified, experienced trainer – the accountability to another human makes us work harder, period. But, good trainers are not always available when and where you workout. In those cases, having this app as a training companion, will go a long way to holding you accountable to the training standards you strive to follow.
I wish you the very best in reaching your strength goals. We are always here to help.